Biographies
---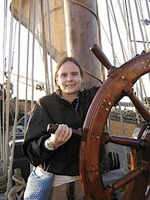 Julie Bihn has adventure in her blood, being born to a father with two peg legs. Gifted with writing skills by her mother and a steady supply of paper by her father, she has been writing as long as she can remember. Her interest in writing and societies led her to a double-degree in Creative Writing and Sociology.
Currently she spends her days drafting sternly-worded letters, and writes fiction during her lunch periods. Her best work to date is The Healer and the Pirate, co-authored with Maggie Phillippi.
---
Maggie Phillippi spent her childhood, and most of her adult life, with her nose stuck in a book. An activity that was passed onto her from her grandmother. Maggie's need to be immersed in other characters and their lives led her to pursue a degree in Theatre.
After graduation, she combined creative forces with Julie Bihn to produce her first completed work of fiction, The Healer and the Pirate.
Cover art and website graphics by MaggiePhillippi.com